CONFERENCE MOBILE APP
The PPXXI Smart Abstract mobile app is sponsored by McElroy.  The mobile app provides access to all conference information to include bios (authors, speakers, moderators); abstracts (presentation and poster papers); company profiles (PPCA, sponsors, exhibitors) and the exhibition map.  Additional features facilitate networking with other attendees (e.g., in-app messaging; conference notifications and more) and registrants can also personalize their itineraries.
To register in the PPXXI mobile app, follow the below instructions:
1. Scan the QR Code to use the mobile app.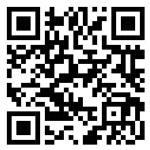 NOTE: In case, the code is not working use the following direct link to reach the app: app.ppxxi.smart-abstract.com
2. For installing the Conference App, please make the following steps:

In Safari:
– Click on the Share icon at the bottom of your view
– Scroll down at select "Add to Home Screen"
– Confirm that you want to add the app to your home screen
– Open the app via the icon on the home screen
In Chrome:
– When you open the app, the installation note "Add this app to your home screen" opens automatically
– Add the app to your home screen by confirming with "Install"
– From now you can open the app directly via the app icon on your home screen.
3. Sign-in at the conference app into the personal agenda
In order to create your personal agenda and able to see all the functions, please sign-in first:




– Select "Sign-in "in the side menu




– Enter your email (For authors/presenters, please use the same email address that you have made the

abstract submission)




– Insert name (display name on the app)




– Choose password (upper- and lower-case letters, min. 8 characters)




– Accept privacy policy and click "Continue"




– You will receive an email to activate your access.
4. After activation, log in with your access data.
Complete your user profile

Open profile via your display name at the side menu

Upload photo

Check and complete your personal data